Society is fascinated by vampires, and this interest is reflected in the queer community. Popular classic vampire lore is credited as beginning with Bram Stoker's famous novel Dracula, written in 1897. Stoker was one of the first to consider vampires to be a sensual creature; one that killed its victims by mesmerization and desire, rather than by solely relying on abject terror or sheer brute strength.

Nowadays, there is a strong inter-relation between vampires and sex. Vampires have physical power over mortals and force them into sex, vampires are part of the BDSM community, vampires mesmerize their partners into sex, appear in their dreams or are the subjects of their fantasies. There is even a special form of vampire called an incubus (male) or succubus (female) that gets its nourishment from taking the sexual energy and vitality of its partners, eventually draining them of energy and the will to live. It does not become surprising then that there are many sex videos that focus exclusively on vampires.

Warning! Spoilers for these movies are included. Even though the plots are minimal, I do give away the ends of the movies.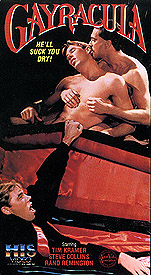 Since Dracula is the foundation of much of the vampire mythos, it's not surprising that elements from both the original novel, and the classic Hollywood remakes of it, are found in many videos. Two queer horror-based pornographic films even use direct variations of the name of Stoker's novel. In Gayracula, most elements of Dracula are incorporated within the video, though the plot is very, very different. Eveningwear, coffins, and even having a faithful manservant are all carried over from the video. A campy addition to this video involves the Count tracking down his nemesis, the Marquis de Suede. But, like most porn, the plot is stretched very thin.
The Count wants to take vengeance against the Marquis for turning him into a vampire, and hunts him throughout the ages. He is attended to by his faithful manservant, his Renfield, who helps move his coffin and helps procure him tricks (and dinner - they serve two purposes). In the end, the vampire is 'saved' by finding true love. And, as is the standard with many American-made movies, true love occurs instantaneously when he meets a 'really cute guy'.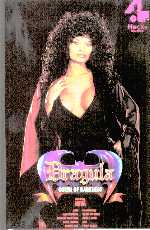 Dragula, Queen of Darkness introduces us to the transsexual vampire. Sadly, other than the name, and the fact that one of the porn stars is 'Bram Stroker', very few of the classic vampire elements are used. But it still contains fangs, foreign accents (probably supposed to be Transylvanian, but a badly done accent is very hard to place) and the desire to stay out of the light. There are four separate scenes/couplings in the movie, three of which involve vampires (the fourth has an actress who appears to have forgotten that she was supposed to be a vampire). If you like transsexual movies, this one may be worth getting, but as a vampire movie, it was not overly impressive.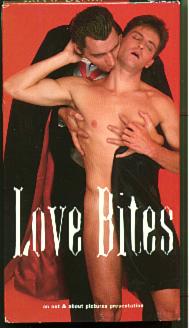 Love Bites, a slightly tongue-in-cheek soft-core porn, demonstrates that much of our knowledge of vampires is from Bram Stoker. In it, a fan of horror movies and of Dracula in specific receives information about a vampire living in West Hollywood. He breaks into an old gothic mansion, with his reluctant sidekick, in order to stake the vampire, only to find out that the vampire isn't exactly what he thought he would be.
The vampire in this has a number of traditional vampire features; including a gothic castle, a servant called Mansfield who enjoys eating bugs, and the power to mesmerize. But, at the same time, this movie pokes fun at the vampire stereotypes in ways that show a very strong gay sensibility. At one point, the vampire hunters see the vampire in his coffin wearing pajamas and bunny slippers, but when he confronts these would-be hunters, he dresses in eveningwear, because obviously they only saw him as a stereotype.
The movie was fairly entertaining and is highly recommended. It focuses much more on plot, with occasional nudity shots, and only one soft-core sex scene. One thing that I found extremely refreshing, well other than just having a gay vampire movie with a plot, was the ending. The vampire knows he is about to die and goes to meet the sun. The human bites the vampire and says 'a bite from a vampire made you into one, maybe a bite from a human will turn you back'. Then, they go to meet the sun, and the film ends. We didn't get any melodramatic "I'm saved!" ending, nor did the two men, who just met, hold notions that they were each other's "one true love." Instead, it was a moment of quiet desperation from the human who realized he had done the vampire wrong, and wanted to get to know him better.

Another movie influenced by Dracula is Night Boys. Which, along with Dragula, is one of the two gay vampire porns that features people of color. However, that is the only thing to it's credit. This movie is horridly made, and is not recommended. Imagine an entire movie of a drunken guy at a party doing a very, very bad Dracula impersonation, and you've got the vampire. Then, throw in a bunch of guys who are being forced to touch each other, and there is the rest of the movie. The vampire wears a $10 'Dracula' cape from the Halloween selection at a drugstore, spins around for no reason and does dramatic gestures while speaking that have nothing to do with what he's saying. The plot is the same as many others. The vampire's servant wants to go explore life on his own and has to find a replacement. The replacement is responsible for finding 'hot, young things' for the vampire. The man that the servant offers up is his brother (which sounds better than it's executed).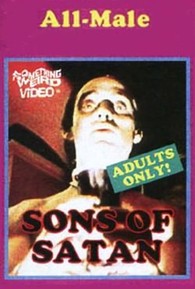 Rather than working off of the mythos of Dracula directly from the book or movies, Sons of Satan references the movie Son of Dracula made in 1943. In Son of Dracula, the vampire is the mysterious Count Alucard, which is Dracula spelled backwards. In Sons of Satan, we meet Mr. Natas, which is Satan backwards. The plots are marginally parallel. Where a young woman becomes enamored of Count Alucard and begins to act strangely until her former suitor shows up to rescue her in Son of Dracula, Sons of Satan has a young man acting strangely and vanishing until his brother shows up to rescue him. Granted, the original Lon Chaney version didn't have sex and the drinking of cum to seal the bond, and the endings are quite different. But at least a movie other than Dracula was referenced.

Most of the other movies deal with vampires that are indirectly inspired by Dracula, but don't necessarily use all of the trappings of the book or subsequent movies. Vampire Boys is an attempt to make a horror-based S&M gay vampire video. Though the make-up is awful (the vampire bites actually peel away from the people and hang there while the boys are having sex) and the guys obviously don't like touching each other, this movie is the only one that is horror based, and attempts to actually be scary. It's not recommended either for the vampire content, nor the porn content.
Two of the harder-core of the queer vampire videos includes The Bite and its sequel The Bite 2. Both involve gay male vampires, but there the similarities end. The Bite starts with a vampire hunter cursed to be slave to the vampires until he finds true love (sound familiar?). Three hundred years later, he is still serving a vampire who has let a fraternity use his house for their initiation.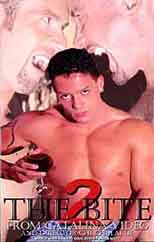 As they arrive, he mesmerizes them into 'enjoying each other's company and then begins to pick them off to satisfy his less erotic appetite. One of the members shows up late and meets the former vampire hunter now turned vampire. As is standard with a couple of the other movies referenced here, love occurred because the vampire met a really cute boy and the vampire curse is broken.
The Bite 2 has a little bit more of a story and involves two incestuous vampire brothers who, along with their sister, are told that their mother has died. At the reading of the will, they are told that their entire inheritance is going to go to mother's new plaything/husband. No one is allowed to contest the will, but there is a clause saying that if any members of the household were to die, the inheritance would be split amongst the survivors. Before the plotting can begin, a vampire, which has overheard this, kills the young stepfather. The sister is then told in a dream that her brother's must die, but that she cannot do it herself, and, well, wackiness ensues.
I'd recommend The Bite 2 as the best piece of gay vampire porn I've seen. However, I should really emphasize that this is gay vampire-porn. Or, in other words, the type of porn that gay vampires are probably going to like. While this is definitely not a snuff film, a number of the people are killed after the vampires finish having sex with them. In fact, I believe the death count by the end is about half of the cast. So, if you like your men to be alive after the deed is done, this one may not be for you.
There is an interesting scene where two vampires (a male and a female) go to a gay bar. The male finds two men that he desires on the dance floor, and the three of them have sex. The scene is made odd by the fact that there are a number of patrons all sitting around watching, and there is a band playing also seeing the action. While all voyeurs affect a 'been there, seen that' attitude, they are caught very off-guard when one of the boys turns into a vampire and kills the other two, splattering the crowd with blood.
The only other vampire porn that involves the bleeding, drinking and death of the human involved is Dis | connected. Not really vampire porn, this movie is an artistic collection of different fantasies surrounded by a framing story involving a man who cannot sleep. The other stories involve a swimming pool fantasy and voyeuristically watching a group of sailors having an orgy. But, the one of interest here is the vampire fantasy, which has a man watching a vampire lord and his human serf having sex. He sees the vampire kill the boy, and then continues to have sex with him. Shortly thereafter, the boy comes out of hiding and lets his passions be known. But, he runs away before his time is up.
This movie is not only unusual in that it has the only necrophilic gay vampire scene around, but also in that it has a very nice scene with the vampire and human in front of a mirror. The camera angles show us the human reflected in the mirror, while the vampire casts no reflection, which provides another reference to Dracula. For those that want to see this for it's pornographic side, I'll warn you that this is an artistic movie with a jerky quality to the filming and numerous flashes of the picture to it's negative image.
One of the more well-known gay male vampire movies is The Vampire of Budapest, which is spoken in Hungarian and subtitled in English. With about two dozen lines spoken throughout the whole movie, the plot is pretty minimal and consists of a vampire finding, watching, stalking and eventually doing it with a boy. One thing that's different here than in most of the others, this vampire can easily go out into the sun. In fact, we find that a vampire looks just like a person, except that he has eyes like a snake's. On the plus side, however, he does have some gnarly teleportation power, and mesmerization to boot. Based on the unusual nature of the vampire, it is possible that this movie draws on a different vampire reference than the traditional Slavic / Eastern-European one from which Dracula was created. But, when all is said and done, this is another of the 'I met a cute boy and he said he loved me so I'm cured' movies. As the boy offers his life to the vampire he just met and 'accidentally' cures him of his vampirism.
At this point, I'm sure most people are surprised that there are this many queer vampire porns out there. But there are still many others, including VamBIres, a bisexual vampire porn, Ultimate Reality, a gay video that has a Dracula scene, and Bite This!, a Czechoslovakian vampire video. The amount of lesbian vampire porns out there is absolutely staggering, and consists of several hundred different videos. Personally, I think it's nice to see that porn directors are looking to 'the unusual' as a source for their videos.
Culturally, the fact that so many sexual videos are made about vampires does show that the two are associated in people's conscious or subconscious minds. Whether they're associated with sex, sex and death, sex and domination or other variants, there's no getting around the sexual side of them. But even with the number of videos out today, there's still so much area left to explore.