I'm pretty new to the zine phenomena, so it was a bit of an eye opener discovering some of the zines that exist out there and how specifically some of the zines focus on a subject. Here is a summary of the zines that I have found that include or focus on queer horror content.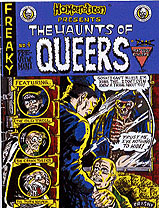 Not only is this one of the better zines I have found, but it also is the only one that focuses exclusively on queer horror. Though violent and somewhat disturbing, the writing and artwork are very impressive. The subjects of this zine range from the silly, such as in the single-panel "Helldresser" comic which features the official hairdresser of movie monsters, to the intense, such as comparing vampires to those who knowingly spread AIDS.
As of 6/15/00 only 4 issues of this have been created.
This is a popular-academic hybrid of movie analysis, history, and commentary.. While not exclusively queer or horror related, they have an entire section of their website, and numerous articles in their zine, focused on queers. A couple of the articles deal with queer horror.
As of 6/15/00, 28 issues have been published.
Dark Moon Sisters
A woman-oriented vampire zine. Occasionally contains lesbian vampire content.
Technically a magazine, this is 'an Adult Anthology of Seduction, Mystery, Erotica and VAMPIRISM '. Sexuality is less important in this magazine than sensuality and eroticism. Almost every magazine contains some same-sex content, but no magazine is exclusively queer. Very well put together and professional.
As of 6/17/00, 11 issues have been published.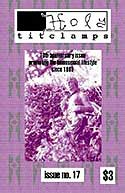 While primarily a queer zine, it occasionally delves into vampire and other horror stories. Both the zine and the website contains tons of things including lists of all other queer zines.
As of 6/17/00, 17 issues have been published.
Vampire's Minion
Formerly known as Carpathian Quarterly, this 'zine has been published since 1996. You can get it at:
1424 S 4th Street
Tucumcari, NM 88401